Ada transforms your room(s) for you! Service includes: designing, planning, ordering, scheduling, and coordinating w/contractors installations (for painting, furniture assembly and placement // lighting, flooring, window curtains/drapes/shades/blinds etc). Quality control (of course!) No order is placed without your happy approval. *** LIMITED QTY OF CLIENTS/PROJECTS ACCEPTED IN ORDER TO PROVIDE UNDIVIDED ATTENTION TO EACH PROJECT.
* no mark up cost on furniture or accessories
* unique design customized for you
* furniture placement layout for visualization
* furniture photos for approval / presentation boards
* itemized Budget List (detailing every item in the design)
* updated spreadsheet of what's ordered
* rooms transformed for you! you relax.
* being able to show off your home to friends/family
What's the next step? a consultation meeting where Ada will meet with you in your home to review your project, needs, company policy, design style, and color review preferences. After the consultation meeting and compatibility, we will email you a letter of agreement. Upon receipt of the agreement to commence the project, we will make an appointment to take pictures and measurements to start designing a cohesive concept that reflects your personality and your needs (wall and room color scheme, furniture placement layout, furniture sourcing, budget list, etc.) |  Time frame for design concept presentation is approx. 2 weeks from project agreement  |  Time frame to complete projects is approx. 4-6 weeks depending on the availability of furniture and the size of the rooms.
Cost: the consultation meeting is $100 flat charge for 45 minutes. The design fee is $105 per hour for all designing, planning, purchasing, and meetings. If you have a budget in mind, Ada will create a design concept factoring in the design fee within your budget. * We can mix budgets (highly recommended) for example: design with Low budget items and add little splashes of Moderate budget items. Estimated low-moderate budget cost for 1 room is approx. $5,000 – $10,000 including furniture items, shipping costs, design fees and contractor cost/labor (painting, furniture assembly, etc.) – depending on what current furniture items you already have and want to use.
Do you know what your budget is? See the chair samples below to help guide your budget preference (remember this guide is to help narrow down your budget not your preference in chair style):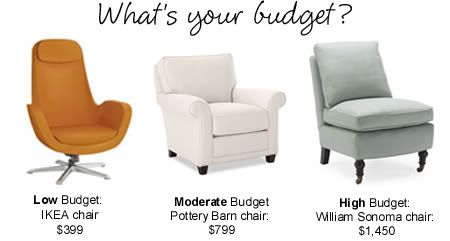 Ready to start? If you have any questions or want to check Ada's availability for a consultation meeting, email info@adasdesigninc.com.