Sometimes we go on autopilot around the holidays (esp when we r juggling so much) that we end up decorating the SAME WAY EVERY YEAR. We often forget how refreshing and invigorating it is to try something new. Yep, including me. So, this holiday I aimed to decorate our Christmas tree completely different than previous years. How? With beautiful artificial flowers! It was soooo easy to do. Seriously, creating a floral Christmas tree is very easy to do. The tricky part may be convincing your love ones. I am so smitten with the one I created, even though 'bribery' was involved. Here's the scoop – hubby is not a flower guy. So, I had to bribe him with an agreement that if he's ok with me creating a beautiful (though feminine) Christmas tree design this year that he (GULP!) …. could decorate next year's tree however he wanted. Emphasis on GULP. Why or why do I keep envisioning skull ornaments?! Anyways, the bribery was WORTH IT because I love how it turned out. Check out the details below, I hope you love it too . . .
FLORAL CHRISTMAS TREE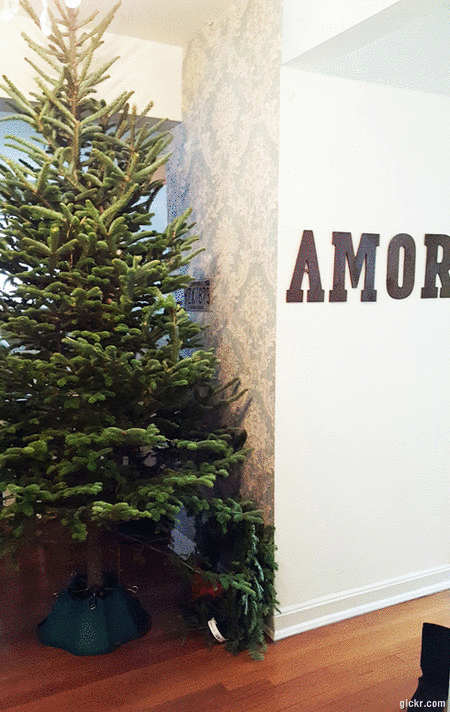 5 MATERIALS USED/NEEDED
tree: 8′ 3″ tall pine tree (we got it at the tree farm, hubby chopped it down)
spring flowers: 42 artificial flowers
holiday red flowers: 8 red poinsettias
cotton blanket: like this one 

here

(normally placed as the shirt/base of the tree)
your favorite ornaments 
We all have our favorite ornaments, so this design is not meant to take away from your cherish ornaments but to create a design that is different, new, and beautiful while still showcasing some of your favorite ornaments. So, add your favorite ornaments within the flowers. 
TIPS + DESIGN TRICK
save on the amount of flowers/ornaments that you use by NOT decorating the back of the tree (the part that is NOT visible). This tip saves you mulaaah! Money saved on xmas tree means more money that you can spend on xmas gifts yaaaaay!
 make spring/summer flowers looks more Christmas-y by sporadically adding red poinsettias and your Christmas ornaments
stick with creating a floral garland design vs inserting flowers all nilly willy.
 Save money by buying flowers ONLY when you have a COUPON or it's on sale! I buy my flowers at the dollar stores, Joanns, and Michaels.
aim to get wide flowers instead of small ones to fill more space in the tree
save money by buying a few BOUQUETS of flowers then cut then to use individually
HOW TO ADD SNOW 
I confess – I loooove spraying snow onto trees and wreaths all nilly willy. But bec our tree is real I do not want to use the spray snow. So, what's a gal to do? I use pieces of snow cotton blankets!! I use it to fill up the areas that do not have flowers. All you have to do is pull pieces apart (comes apart VERY easy) and insert it onto the branches. Caution: our tree uses lights that do not get hot so there is no risk of fire hazard. Use your judgement – be safe. If unsure then skip this step.
I can't stop smiling every time I pass by our Floral Xmas tree. If you would love to create your own FLORAL CHRISTMAS TREE (in a small tree or large one), then create a Holiday board in Pinterest >> then name it Christmas Ideas >> then this post onto your board. May your holidays be filled with love and laughter. Remember, tis the season for giving, but make sure that it including giving to yourself – rest, peace of mind, laughter, fun, be kind to yourself!